Cash Frenzy offers many ways to buy gold coins, boosters, and special bundle deals
All payments are made through Google Play or the App Store / iTunes. If you want to make purchases in the game, you must first set up your payment method within the Google Play Store or with your Apple ID.
iTunes/App Store:
For more information please visit
Apple Support
To make purchases, first click on the Buy Coins button at the top of the main lobby.
This will take you to store, which has options for Buy Coins, Emeralds, Boosters. On the Far left there are occasionally special Bundle Offers for limited time purchase.
Each offer includes Benefits which will vary according to the offer being purchased. By clicking on the Benefits button, you can see which benefits will be provided for that purchase.
Please note: Benefits offered are subject to change each day. For more information about each benefit, check the Events & Offers tab located at the top right of the main lobby screen, or the Information button located on the upper-left of the store page.
Qualified purchases are also eligible for Lucky Charms. Collect 4 Lucky Charms to win huge prizes as a reward. Please note: Lucky charms has an expiration date, which is listed up the Lucky Charms Icon on the bottom of the store page.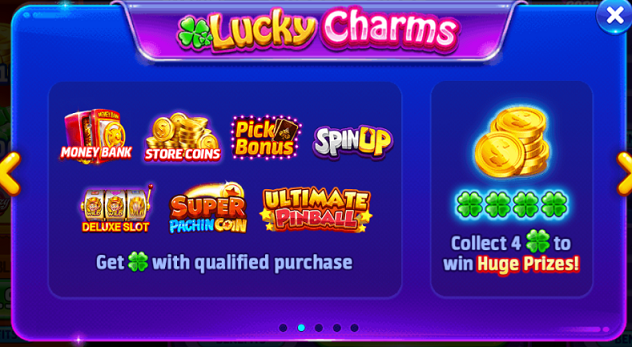 To make a purchase, select the offer you wish to purchase and select your payment method through Google Play or App Store / iTunes. Once you click confirm, you will receive a purchase notification.