Rapid Pay games are one of many amazing features found in Cash Frenzy Slots.
Most Rapid Pay Games will have the following basic rules and features when playing, however all games may vary slightly and their rules will be listed under Game Rules.
As you spin in Rapid Pay Slot games, you have the chance to land Rapid Pay symbols. Each time you land on the required amount of Rapid Pay symbols, you will be rewarded with the corresponding payout reward.


Most Games will have 3 Rapid Pay symbols pay 1x total bet and 4 Rapid Pay symbols 5x total bet. With a minimum of 5 Rapid Pay symbols to get the lowest progressive Rapid Pay Jackpot Prize.


The amount of Rapid Pay symbols needed for each corresponding Progressive Jackpot Prize will vary from each game. Please see game rules for more details.


All prizes and Jackpots received from Rapid Pay symbols in Free Games or Bonuses will be awarded at the end of the Free Games or Bonuses.
Rapid Pay Game Example:
Rapid Pay Game Rules Example: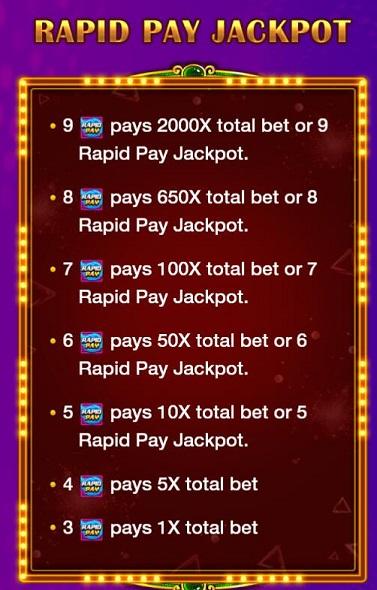 Where to find Unique Rules
Some Rapid Pay symbol games will include unique rules, bonuses, and wilds. Each game will include these features within the Game Rules accordingly.
For example Mayan Miracle uses two sets of unique Rapid Pay symbols for it's progressive jackpots. This also includes special "Wild Rapid Pays", which have a different function.
Examples: Unique Rapid Pays

Additionally, the value of progressives may vary from each Rapid Pay Game, please consult the payout chart in the Game Rules to see any special rules or information.
Example: Rapid Pay Progressives
Please note: The above is a general explanation of Rapid Pay games, and each slot game may have variations of the above.